Jewish World Review July 22, 2003 / 22 Tamuz 5763

Clarence Page
Presidential politics: A time to pander, a time to push away

http://www.NewsAndOpinion.com | Ah, the "Pander Bears" are feeding again.
Pander Bear was the late Paul Tsongas' unflattering nickname for his toughest rival, Bill Clinton, as they competed for the 1992 Democratic presidential nomination. The term described a candidate who would promise anything to stay in favor with cherished interest groups.
Clinton broke out of that stigma with his "Sister Souljah" moment.
In a dinner speech before Jesse Jackson and his Rainbow Coalition in June, 1992, Clinton lashed out at the then-popular rap artist for comments she made in interviews that sounded as though she approved of blacks killing whites in that year's Los Angeles riots.
Caught on national TV news cameras, along with shots of Jackson looking deeply annoyed, it proved to be a defining moment for Clinton and Campaign '92. Clinton impressed swing voters, particularly white suburbanites, with a confident independence from Jackson that other Democratic presidential candidates had not shown. Sister Souljah provided Clinton with an excuse to distance himself from Jackson without losing significant ground among black voters.
Now a new campaign has begun with a new group of challengers to a new President Bush. Refreshing moments of principled straight talk with core constituents seem to be few and far between. The Pander Bears are back.
You could see them last week at the Miami Beach convention of the NAACP, America's oldest and largest civil rights organization. You could also catch a few at a Washington forum by the Human Rights Campaign, a leading gay and lesbian rights organization.
When three of the nine Democratic candidates failed to show at an NAACP forum on July 14, NAACP president Kweisi Mfume lambasted Sen. Joe Lieberman of Connecticut, Rep. Dick Gephardt of Missouri and Rep. Dennis Kucinich of Ohio as "persona non grata" with black voters for their absence. "Your political capital is the equivalent of Confederate dollars," Mfume said.
When the scolding was picked up in national media, the absentee candidates got the message. They hastily arranged a makeup date held during the convention's last hours last week. The organization suspended its rules to allow the candidates five minutes "for the purpose of public apology and explanation."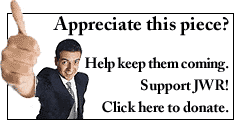 Similarly, a day after the first NAACP forum, seven of the nine candidates appeared at a Human Rights Campaign event where they were put under the glare of activists urging them to take the most extreme position possible on the volatile issue of gay marriages. Support for "civil unions" was not enough.
Two candidates, Lieberman and Sen. John Kerry of Massachusetts, actually drew hisses from the audience for refusing to support gay marriage. Only three of the longest long shots, Al Sharpton of New York, Kucinich and former Illinois Sen. Carol Moseley Braun gave the crowd what it wanted by supporting gay marriage, not just civil unions.
Frankly, I fail to understand why so many people are afraid of the notion of gay partners getting married. But I also understand that not everyone in the country is similarly enlightened. In such a circumstance, I think it would be better to have a president who, if not completely on your side in every way, is at least not opposing you. But, again, not everyone is similarly moderately disposed. Some people take an all-or-nothing attitude to politics. They are what politicians call "a pain in the neck," although the politicians usually don't say this in public.
Interestingly, a Web surf indicates that the three persona non gratas received more public attention for their absence than the others received for dutifully showing up. Like a man biting a dog, it is bigger news to see politicians nip the hands that feed them than it is to watch the licking.
But, if they're not careful, it also can be political suicide.
Such is the tightrope that presidential aspirants must walk as they try to win over their political base, then whip around and reach out to mainstream voters.
Such was the thinking that brought George W. Bush to the NAACP, an organization far more liberal than he is, as a guest speaker in 2000. It was his own version of a Sister Souljah moment, a signal to moderate voters that he was "a uniter, not a divider," and a "compassionate conservative," not a scary right-wing extremist, even if some of those people who supported him were.
Alas, despite repeated invitations, he has not found time in his busy schedule to return to the three conventions since. Ah, well, he's a busy man.
But it's still early. Bush and any of his Democratic rivals may yet surprise us with new Sister Souljah moments. Then we can see how well they can reach out to new supporters without losing their base.
For some candidates, that's a big stretch. But this is a big country. We need flexible people to lead it.
Enjoy this writer's work? Why not sign-up for the daily JWR update. It's free. Just click here.

Comment on Clarence Page's column by clicking here.

07/15/03: Deeper realities of Baker's dust-up
07/10/03: Formerly aloof, Bush now embraces Africa
07/08/03: Wrestling with the 'Q-word' in Iraq
07/01/03: If you are reading this column, you aren't being filtered!
06/10/03: The 'Industry of Hillary' raises bucks for both sides
06/03/03: rent-a-negro.com
05/30/03: Dems grope for glimmer of hope
05/28/03: Reefer sanity vs. puritans in the White House
05/22/03: Turns out race was a factor in the NYTimes scandal — a very big one
05/06/03: Closing the college graduation disparity
04/22/03: Fighting for privacy in an era of terror
04/22/03: Don't mis-underestimate the prez: Give him the 'props' he deserves
04/21/03: Sitting on scoops at CNN
04/15/03: After Saddam? Watch out, Syria
04/11/03: 'Hammer time' for Castro
04/08/03: Post-Hussein: Winning the true peace
04/03/03: Right story, wrong TV station
04/01/03: Remembering Moynihan's mind
03/27/03: A fog of war words: Shocking and awesome
03/21/03: A Moranic moment bites peace movement
03/18/03: Viewers beware when tv networks don't care
03/14/03: Powell's battle for Bush's ear
03/10/03: 'Embedded,' but not 'in bed with'
02/28/03: Bridging the black gender gap
02/19/03 Braun vs. Sharpton: A Dem dilemma
02/14/03: Bush's clean-up man
02/11/03: How feds fooled marijuana trial jurors
02/06/03: Time to re-think space shuttle's value
01/31/03: Why corporations like diversity, too
01/28/03: Shaq vs. Yao, a new world diss-order
01/23/03: Affirmative action will be remarketed under new name
01/13/03: Bond movie offers clues to Korea crisis
01/07/03: Dr. Frist to the rescue … of his party
01/02/03: Feeling a 'draft,' but not much
12/17/02: To rob a burning cross of its power
12/03/02: Closing black-white test-score gaps
11/19/02: Uncle Same wants your data
11/15/02: Marriage vs. 'player' impulse
11/11/02: How Oz can help the Dems
11/05/02: We reserve right to be complicated
10/22/02: What the pro-gun lobby and anti-gun lobby have in common
10/18/02: Take Sharpton seriously? For Prez??
10/15/02: A beauty and the bullies
10/08/02: Time to start 'fingerprinting' bullets
10/08/02: Poet laureate hater fell for Internet hoax
10/04/02: Keeping it real, despite howls from black 'leaders'
10/01/02: Revisiting the 'Jogger' horror
09/27/02: Sometimes freedom is a necessary nuisance
09/13/02: Foil Fidel with free trade
09/10/02: Measuring the myth of 'super weed'
09/06/02: A year later: A reality-check
09/03/02: Make better choices before some jury somewhere does
08/20/02: Bid farewell to the Cigarette Century
08/16/02: Rights matter, even in circus trials
08/09/02: Jousting with Rumsfeld's fog of wit
08/06/02: Covert action is cool again
08/01/02: Powell's premature obituaries
07/30/02: A common sense tip on internal snooping
07/18/02: Jacko plays race card badly
07/12/02: Last flight for a pioneer airman
07/08/02: Dems will miss Watts, too
06/28/02: 'Supreme Court reads polls, too
06/25/02: 'The Body' bites, then bows out
06/21/02: Punishment first, then the crime?
06/18/02: Reporting still risky for Haiti's press
06/14/02: Bush's security plan leaves large gaps
06/04/02: Fix FBI's culture gap first
05/28/02: Fidel's new apartheid for tourists
05/21/02: Now McKinney's lunacy sounds like the Democratic Party line
05/19/02: A paradox of historical proportions
05/14/02: 'Murphy Brown' revisited in age of Ozzy
05/10/02: America looks like a model of tolerance and inclusion
05/07/02: Forget it, Bill, you're no Oprah
04/26/02: Mapping out ethnic and racial change
04/23/02: A game of another color
04/19/02: It's high time to open up pot-law debate
04/11/02: 'Osbourne' family values rock, aging Ozzy quakes
03/22/02: Zimbabwe election leaves world sleepless
03/19/02: A slur? Where is thy sting?
03/15/02: A Pearl of wisdom for reporter's unborn son
03/12/02: Army race and gender policies on trial
03/08/02: A short list of losers to be left behind
03/05/02: Revenge of the 'mediasaurus'
02/26/02: Jihads aren't just for Muslims
02/26/02: It's hard to be 'objective' during wartime
02/19/02: Hollywood's new villain: Your HMO
02/12/02: Father of 'Manchild' leaves lasting message
02/08/02: $nookering the reparations crowd
01/31/02: Prisoners of a War of Words
01/29/02: One more Enron woe: Al Sharpton & company
01/25/02: Searching for slaves in bin Laden's attic
01/22/02: Andrew Young's newest 'friend'
01/08/02: Hard-earned lessons from 9-11
12/18/01: Whatever happened to questions about the birds and the bees?
12/14/01: The "White Negro" Taliban?
12/07/01: Jackson's turn to gloat
11/27/01: Friendly warning from a lover of liberty
11/21/01: The face of hunger is changing
11/15/01: Our troubled sense of trust
11/08/01: Lessons about terror from the 'hood
11/06/01: Getting used to the 'new normal'
11/02/01: Wicked ways to make them talk
10/30/01: It's not just about bin Laden
10/26/01: More than mail fell between the cracks
10/23/01: Terrorists threaten urban recovery, too
10/18/01: Sometimes, assassination warranted
10/15/01: Self-censorship rises again
10/12/01: Contradictions illustrate the complicated nature of the new terrorism
10/05/01: Look who's 'profiling' now
10/01/01: Don't trash liberty to save it
09/28/01: Life, love and cell phones during wartime
09/24/01: How to catch an elusive terrorist
09/21/01: The war I was waiting for
09/17/01: When rage turns to hate
09/13/01: Terror attack tests US, let's give right response
09/06/01: U.S. should have stayed and argued
09/04/01: Columbine killer's parents get upclose and personal
08/31/01: Virtual kids? Log me out
08/28/01: Two Africans, one black, one white, same fight
08/23/01: Sharpton for president
08/20/01: Shaking up the rules on keeping secrets
08/16/01: Bush's u-turn on racial goals
08/09/01: Outsider Bubba comes 'in' again
08/06/01: Not ready for 'color-blindness' yet
08/02/01: Immigration timing couldn't be better
07/26/01: Summer of Chandra: An international traveler's perspective
07/17/01: Overthrowing a régime is only the beginning
07/10/01: Big Brother is watching you, fining you
07/05/01: Can blacks be patriotic? Should they be?
06/19/01: Get 'real' about marriage
06/12/01: Amos, Andy and Tony Soprano
06/07/01: Getting tough with the Bush Twins
06/05/01: Bringing marriage back into fashion
05/31/01: "Ken" and "Johnnie": The odd-couple legal team
05/24/01: Sharpton's challenge to Jackson
05/22/01: Test scores equal (a) MERIT? (b) MENACE? (c) ALL OF ABOVE?
05/17/01: Anti-pot politics squeeze the ill
05/15/01: Was Babe Ruth black?
05/10/01: U.N.'s torture caucus slaps Uncle Sam
05/08/01: 'The Sopranos' a reflection of our times
05/03/01: 'Free-fire' zones, then and now
05/01/01: War on drugs misfires against students
04/26/01: Another athlete gets foot-in-mouth disease
04/23/01: 'Slave' boat mystery reveals real tragedy
04/19/01: McVeigh's execution show
04/12/01: Not this time, Jesse
04/05/01: Dubya is DEFINITELY his own man, you fools!
04/02/01: Milking MLK
03/29/01: The candidate who censored himself?
03/22/01: "Will Hispanics elbow blacks out of the way as the nation's most prominent minority group?"
03/19/01: Blacks and the SATs
03/15/01: The census: How much race still matters in the everyday life of America
03/12/01: Jesse is a victim!
03/08/01: Saving kids from becoming killers
03/01/01: Parents owe "Puffy" and Eminem our thanks

© 2001 TMS