Jewish World Review Sept. 26, 2003 / 29 Elul, 5763

Dick Morris
An open letter to Karl Rove
http://www.NewsAndOpinion.com | Karl Rove
Senior Adviser to the President
for Strategic Initiatives
The White House

Dear Karl:

As you know, I have been doing my best to support President George Bush in the wake of Sept. 11. I felt — and feel — that it is our patriotic duty to do all we can to help him as we confront the threat of international terror.

Now, as the president's ratings approach rock bottom (you hope), it's time for me to write to you directly, if publicly, with advice on how to resurrect this dying presidency.

Dying? When Newsweek has you at the exact share of the vote you actually got against Gore in 2000 (48 percent — the word dying is appropriate.

My advice:

1. Confront Iran We confront a deadly threat, as you know, in the determination of the theocratic jingoists in Teheran to acquire nuclear weapons. Don't worry about being the kid who cried "wolf" too often. Explain candidly and aggressively the danger we face from Iran and rally the public to counter the new threat.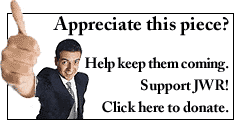 Specifically, invoke the D'Amato Amendment and impose sanctions on European, Asian and Russian companies that invest in helping that criminal regime develop the oil and gas reserves that it uses to subsidize terrorism worldwide.

It is only by appropriately raising the perceived importance of the terrorism issue back to its old heights that Bush can keep control of the political situation at home and abroad. This is not adopting a bad foreign policy for domestic political advantage. It is adopting a good one that has the same end.

2. Restrict The Mission in Iraq Isolationism has always been the hidden force in American politics. Never really defeated in an election, it lingers in both the Democratic and Republican political bases. The casualties and cost of the ongoing occupation of Iraq are tapping into this potent political force (which I once quantified through polling as 35 percent of the electorate.) These voters put aside their isolationism to back the war in Iraq and Afghanistan because of the danger illustrated by Sept. 11. But they are not about to support what Bush once called "social work" in the guise of what he now calls "nation building."

We should place No. 1 priority on the safety of our troops in Iraq. If we have to keep them on the base and out of the streets, so be it. The first priority has to be to stop the bleeding, whatever the cost to Iraqi reconstruction. Americans don't care if the electricity is on in Baghdad, just preserve the lives of our sons and daughters.

3. Pass Prescription Drug Benefits The economy is not that important to Bush's fate. Unlike in 1992, voters understand that there is not much a president can do to impact it. Voters also understand that it is Osama bin Laden, not Bush, who caused the last recession. But health care prices, now that the smoke of terrorism appears — incorrectly — to be clearing, are a very important element in the strength of the Democrats. Just as I told Clinton he was unlikely to win if he didn't pass welfare reform, I think that Bush has to pass prescription drug benefits for the elderly. None of the GOP objections to the bill should stand in the way of its passage.

For those who say the bill goes too far, I would give the same answer we gave Democrats in 1996 who felt the same about welfare cuts — pass it now and fix it later.

4. Back Hydrogen Fuel Cell Cars Bush needs a major domestic theme to deal with high gasoline prices and with our dependence on terrorist oil. His efforts for more energy production ring hollow with Americans. But by galvanizing Americans around hydrogen fuel cell cars and retrofitting American gas stations to carry hydrogen, he offers a practical way to counter the financial power of terrorism. Just as he seized American imaginations with his commitment to research in his State of the Union Address, he should now move to implementation to regain his hold on the issue.

I don't work there anymore, but perhaps these ideas might help a very successful president who has provided the leadership we need get reelected.

Sincerely, Dick Morris
Every weekday JewishWorldReview.com publishes what many in Washington and in the media consider "must reading." Sign up for the daily JWR update. It's free. Just click here.

JWR contributor Dick Morris is the author of, among others, Off with Their Heads: Traitors, Crooks & Obstructionists in American Politics, Media & Business" Comment by clicking here.

09/24/03: Why Clark will fade
09/18/03: Terror fears fade too fast
09/10/03: As Dubya sinks, Al & Hill scheme
08/25/03: Bias-mongers on rocks as viewers taste straight news
08/14/03: Arnold & Dean's political revolution
08/08/03: Hillary Clinton might not want to wait until 2008
08/06/03: Revolution
07/24/03: As Bush falters, watch Hil run
07/21/03: Peace dominoes begin to fall
07/17/03: Let's hear the good news
07/14/03: Sending troops to Liberia could be a bridge too far
07/10/03: McGovern II
07/07/03: French: Toast
07/03/03: At moment of truth, Hillary turns backwards
06/27/03: And now the dominos begin to fall
06/25/03: W's triangulation
06/23/03: Presidents often fall victim to their own success: Some advice for the president
06/18/03: Times not a-changing
06/13/03: Why did Hillary write the book?
06/11/03: Will the Rev go rogue?
06/05/03: Napoleon's maneuvers at Austerlitz have nothing on prez's
06/02/03: Prez's tax-cut catch-22 for Dems
05/29/03: Liberal author documents Clinton's wasted second term
05/16/03: Early Democrat handicapping for 2004
05/14/03: Gephardt: AWOL
04/30/03: Prez can lose
04/25/03: My message to Putin: Call President Bush
04/23/03: NO OIL FOR BLOOD
04/21/03: The war that network news lost in Iraq
04/15/03: Media meltdown
04/10/03: Giving government a good name
04/03/03: Polls' message to Bush: Relax and win the war
03/31/03: Bomb as you need
03/28/03: The strong grow weak through inhibition
03/26/03: Carping pessimism of TV anchors and interviewers fails to give Americans a sense of defeatism
03/17/03: Poll: Get on with it
03/13/03: It's time for U.S. to play hardball at U.N.
03/10/03: The whole (Hispanic) world is watching
03/07/03: Anti-war errors
03/05/03: Domino theory II: Toppling Mideast despots
03/03/03: Europe's triangulators: Chirac and Blair
02/27/03: Invasion? More like a coup
02/21/03: The first casualty of Iraq war: Liberal credibility
02/19/03: Old Europe's last hurrah
02/14/03: Corzine throws down gauntlet on Wall St. fraud
02/12/03: An exile deal for Saddam
02/07/03: The Dems give up the House
02/05/03: France: Saddam's ally
02/03/03: War critics will suffer
02/30/03: Even by Clinton standards, it's sheer chutzpah
01/24/03: Rebirth of the balanced budget Republican
01/22/03: Next to Bubba, Dubya's got it good
01/16/03: End racism in affirmative action
01/13/03: The new swing voter
01/10/03: Political e-mailing comes of age
01/07/03: In Dem race: Home field no advantage
12/31/02: Hey, Hillary: Want to appear like a stateswomyn? Stay silent
12/19/02: Kerry in the lead
12/19/02: Lieberman the frontrunner
12/17/02: In defense of Lott
12/02/02: An issue for Bush: Drugs
11/27/02: Women gone wobbly?
11/25/02: The U.N. over a barrel
11/15/02: Gore's suicide
11/15/02 One-party control is an illusion
11/13/02 The House of Extremes
11/08/02 I have egg on my face
11/01/02 Is Bush losing control over events?
10/25/02What is causing Bush's free fall?
10/25/02: Anybody sense a trend?
10/23/02: A deadline for Iraq
10/18/02: Only sure bet of 2002 elections is voter angst
10/16/02: Endangered incumbents
10/11/02: Why multilateralism doesn't work
10/09/02: Hey, Dems: Believe NYTimes polling at your own risk
10/03/02: Dem suicide: Let's count the ways
09/30/02: The Dems just can't stop themselves
09/26/02: The perils of polling
09/19/02: W. boxed in the U.N.
09/19/02: Welfare reform: Keep on keeping on
09/12/02: Are Dems insane on Iraq?
09/09/02: Twin shadows of Election '02
09/05/02: GOP should triangulate
08/28/02: Trust the military
08/22/02: It's not the economy, stupid
08/09/02: As America unites, Gore goes divisive
08/01/02: Bush must focus on big picture
07/23/02: Election 2002: Advantage Dems
07/19/02: Rudy for SEC tough cop
07/17/02: The investor strike
07/15/02: Door open for drug testing students --- go for it, GOP!
07/12/02: Dubya looking out for No. 1?
07/03/02: The DNA war for Bush's soul
06/21/02: Why are conservatives winning?
06/19/02: Learning to love the feds
06/14/02: Hey, journalists and Dems: Dubya is doing just fine
06/12/02: It's terrorism, stupid!
06/10/02: Sanctions are a potent weapon
06/04/02: Al Qaeda's more dangerous new front
05/31/02: Why '04 looks tough for liberal Dems
05/24/02: Democratic self-destruction
05/22/02: The Clinton failures
05/15/02: Pataki positioned to win
05/08/02: A wakeup-call for American Jewry
05/03/02: Give Bush back his focus
05/01/02: Immigration fault li(n)es
04/25/02: It's the war, stupid
04/17/02: Bush goes small bore
04/12/02: Bush must be a gentle partisan
04/10/02: In defense of polling
04/08/02: Focus on Iraq, not the Palestinians
04/01/02: Only Internet will bring real campaign finance reform
03/27/02: Where W's drawn a line in the sand
03/22/02: Enron scandal will not trigger a wave of economic populism
03/20/02: Term-limited --- by war
03/15/02: Europe doesn't have a clue
03/11/02: Bush popularity = GOP win?
03/01/02: Will America be forced to chase its tail in its war on terrorism?
02/27/02: The Arafat/Saddam equilibrium must be destroyed
02/21/02: Campaign finance reform won't hurt GOPers
02/13/02: Dodd scurries for cover
02/11/02: U.S. 'unilateralism'? The Europeans don't have a case
02/06/02: WAR: What women want
02/01/02: They all talk in the end
01/30/01: The odd couple: Chris Dodd and Arthur Andersen
01/22/01: His father's son? Bush better get an 'Act II' fast!
01/18/01: Dubya & the 'vision thing'
01/14/01: The Rumsfeld Doctrine 01/03/01: A President Gore would have been a disaster
01/03/02: Clinton's priority: Political correctness over fighting terror
12/27/01: Terror network grew out of Clinton's inaction, despite warnings
12/24/01: Call 'em back, George
12/18/01: What Bush did right
12/13/01: Libs worry too much
12/11/01: "Open Sesame": Feinstein's proposed bill allows 100,000 non-immigrant students from anti-American countries to our shores
12/07/01: The non-partisan president
12/05/01: Both parties are phony on stimulus debate
11/29/01: When terrorists can enter legally, it's time to change the laws
11/21/01: Go for the jugular!
11/16/01: You are all incumbents
11/14/01: Clinton's failure to mobilize America to confront foreign terror after the 1993 attack led directly to 9-11 disaster
11/12/01: To the generals: Don't worry about losing support
11/08/01: The death of the white liberal
11/07/01: Our leaders are being transformed in a way unprecedented in post-World War II history

© 2003, Dick Morris