Jewish World Review April 3, 2001 / 10 Nissan, 5761

John Leo

Why don't conservatives care about saving the planet?





http://www.jewishworldreview.com -- AFTER a speech I gave to a conservative group in New York, a man rose and asked: Didn't I think all the alarm about global warming was just another example of the politically correct agenda of the left? I said no, the evidence of a drastic warming trend seemed overwhelming to me. I missed the opportunity to say that the "no consensus on warming" crowd now sounds a lot like the tobacco lobby arguing that the link between smoking and lung cancer has not yet been established. Even without this observation, the questioner deemed my response incorrect. So he asked again to give me a fresh chance to get things right. I said I didn't understand why social conservatives are generally hostile to environmental concern. Shouldn't conserving come naturally to conservatives?

Apparently not. Economic conservatives, for whom the Wall Street Journal is the primary spokesman, are dismissive of most environmentalism. When President Bush announced he would not abide by the Kyoto protocol calling on America to reduce carbon dioxide emissions, the Journal hailed him for "refusing to bow before the environmentalist holy of holies." Derisive references to environmentalism as a quasi religion of the softheaded tend to play well among social and religious conservatives, who generally don't respond to arguments from big business. These references remind all conservatives that the most extreme environmentalism does look a bit like an ersatz Earth religion, with humans as the poisonous intruders who shouldn't be here. But why do social and religious conservatives so often fall in line with business executives who dismiss all environmentalists as wackos?

Hippie horror. One reason is that environmentalism rose out of the same 1960s agitation that social conservatives believe was so ruinous to the general culture. Some environmentalists give the impression that the movement is simply part of the left, thus managing to alienate potential supporters on the right. This is a major strategic mistake, but an understandable one, given the hostility to the environment that Republicans have exhibited over the past 20 years. And issues of class are a factor, too.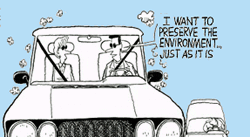 Environmentalists tend to be well-off, with the luxury of worrying about the snail darter and the state of the global environment in 2050. When a candidate like Al Gore appears, it is relatively easy for Republicans to connect the dots and associate environmentalism with elite Democratic stances that appall so many conservatives. The result is that on every level, the party with the most social conservatives contains the fewest environmentalists. In Congress, the most notable Republican effort in this field is attaching antienvironmental riders to appropriations bills. Martha Marks, head of REP America, refers to herself as "the president of what a few jokers have called the world's funniest oxymoron: Republicans for Environmental Protection."
The absence of a meaningful environmental constituency explains why it was so easy for the new administration to back off the Kyoto agreement and support drilling for oil in the Arctic National Wildlife Refuge and (ominously) other wilderness areas. The undermining of Christie Todd Whitman as head of the Environmental Protection Agency apparently began early. Word came she was known around the White House as "Brownie," a sarcastic reference to President Clinton's EPA chief, Carol Browner, who was predictably unpopular among many big-name Republicans. Is this a show of contempt for Whitman, her agency, or both?
Republican antienvironmentalism dates only from the Reagan years. As opinion rose against big government and heavy regulation, particularly in the West, environmental protection was demonized as a symbol of Washington's overbearing power. By the time of Newt Gingrich's poll-tested Contract with America, antienvironmentalism was part of the Republican canon. Environmental historian William Cronon writes that the contract "came to grief in good measure because most Americans continue to believe that protecting the environment is a good thing." Newt now thinks so, too, and has admitted that Republicans are "malpositioned" on the environment.
George W. Bush is probably too moderate to emerge as a version of the old antienvironmental Newt. But even in narrow partisan terms, the Republicans should be careful. Wirthlin Worldwide, a polling firm associated with Republican causes, reports that "2 out of 3 Americans say we need to protect the environment no matter what it costs." In 1999, Zogby International, another pollster heavily used by the GOP, surveyed probable Republican primary voters in five key states and found about as much support for "protect environment" (92.8 percent) as for "encourage family values" (93.4 percent). And an Environmental Defense Fund poll says that young adults (18 to 25) are "remarkably skeptical" about environmental progress over the past 30 years, with 62 percent believing that conditions are now worse than in 1970. Republicans may count on the old rule of thumb: Everybody supports the environment in polls, but it's nobody's primary concern in the voting booth. But if I were running the party, I don't think I would tie myself closely to the losing side of a broad national argument.
JWR contributor John Leo's latest book is Incorrect Thoughts : Notes on Our Wayward Culture. Send your comments by clicking here.

03/27/01: Ivy League therapy
03/20/01: Hold that conscience
03/12/01: The no-speech culture
03/05/01: The 'transgendered' boom
02/27/01: Lovely monsters
02/20/01: When perfectly reasonable principles are carried too far
02/13/01: Bill and Hill are pills
02/06/01: Partner hopping
01/30/01: Sensitivity police
01/22/01: Found in the White House dumpster on Jan. 20, 2001
01/16/01: New slogan belies what the Army really is
01/08/01: The black dissent
01/03/01: The year's best quips on life, politics – and golf
12/19/00: Supreme confusion
12/11/00: Racial rhetoric conveniently ignores election facts
12/05/00: Savage fantasy
11/27/00: Victims of the year get the recognition they deserve
11/20/00: It's a chad, chad, chad, chad world
11/13/00: The election rhetoric is running much too high
11/07/00: How yesterday's hero becomes tomorrow's heel
10/30/00: Would Bush's Supreme Court picks make a difference?
10/24/00: Yankees, go home!
10/17/00: Un-American activity?
10/10/00: A tempest in an ink pot
10/03/00: The Al Gore quiz
09/26/00: The sleeper effect
09/19/00: Baby-saving made easy
09/12/00: Line between reporting and editorializing continues to blur
09/05/00: In the key of F
08/29/00: Hollywood connection
08/22/00: Some friendly advice to the GOP
08/15/00: You can't make this up
08/08/00: The niceness strategy
08/01/00: When rules don't count
07/25/00: Anti-male bias increasingly pervades our culture
07/18/00: Banned in Boston
07/12/00: What Jacoby had to deal with!
07/11/00: Will boys be boys?
07/05/00: Partial-sense decision
06/27/00: Attitude toward death penalty gets in the way of facts
06/20/00: Double troubles
06/13/00: Fools paradise
06/06/00: Accidental conspirator
05/30/00: Faking the hate
05/23/00: Was it law or poetry?
05/16/00: Here, there and everywhere, people have gone bonkers
05/09/00: Tufts evangelicals are punished for acting on their beliefs
05/02/00: Elian's opera isn't over until nearly everyone sings
04/25/00: All the news that fits: The media serve up many stories from a standard script
04/19/00: Those darned readers: The gap between reporters and the general public is huge
04/05/00: Census sense and nonsense
03/29/00: Hollywood message films leave no room for other views
03/22/00: The Vatican confesses, but is it enough?
03/14/00: Watch what you say: The left can no longer be counted on to defend free speech
03/07/00: McCain's malleable messages
03/01/00: Bush's appearance at Bob Jones U. will dog him all the way
02/23/00: 'Multi-millionaire' show is new evidence we're insane
Copyright ©2001 Universal Press Syndicate
Click here for more John Leo